Meet Shelley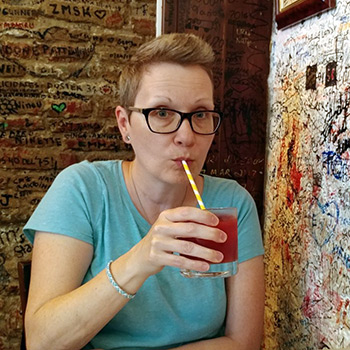 Shelley enjoying a Bloody Pepi in Barcelona, Spain
Shelley founded Web Crafters in November 1999 while working simultaneously at Shell Information Technology as a web designer/developer. What started out as a side gig to help her Mom (Patricia Kay) build her career as a published author, soon became a growing business. In 2004, Shelley made the decision to run Web Crafters full time and she never looked back. Web Crafters has been going strong ever since and has provided web design and related services to hundreds in the author community as well as small business owners, photographers, artists and more.
In her free time, Shelley loves to travel, paint, eat good food, hang out with family and friends, and play board games. When COVID hit in 2020, Shelley had a lot of free time on her hands and was able to hone her skills as an acrylic artist and in particular, painting custom portraits of pets.
Coming soon: a new website where you can check out Shelley's art as well as the watercolor art by her Mom, Pat Kay, who is now retired from writing.
---
Meet Peggy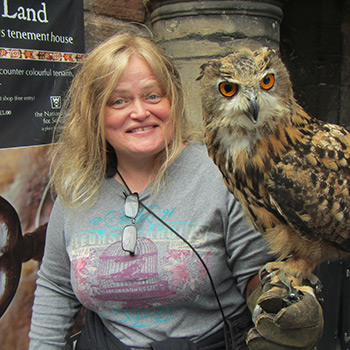 Peggy with Guinevere in Edinburgh, Scotland
Peggy began her career at Web Crafters in October 2008 after finishing her PhD at The Catholic University of America. Peggy studied and taught in the social sciences before switching careers to join Web Crafters. She began doing graphic design at several businesses and social agencies prior to her time in graduate school. She is now very happy to return to web design and she loves the freedom and creativity of co-owning a business.
Peggy's hobbies include travel, playing with her cats, board games, reading, photography, music, and hanging out with friends. When COVID hit in 2020 and Peggy had a lot of free time on her hands, she discovered a love for ancestry and spent months researching her family tree. Future plans include traveling to the various places where her ancestors lived, both in the U.S. and abroad.